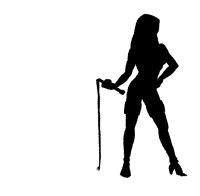 THIS PAGE IS BEST VIEWED, UPON A DESKTOP.
MZMUSE

Dominant Sensualist
There is nothing, which can honestly compare to the virile rush of adrenaline, that I get; when sinking my teeth and talons into the succulent underbelly of someone's most vulnerable psyche. Where all your burdensome desires can be laid bare, before my feet to worship at the alter of Eros.
​
Once such an intimate connection has been made, with me; the benefits are truly breathtaking and boundless.
MzM.A.Muse is a sensual therapist and BDSM educator based out of SouthEast Florida. MzMuse began her career, as a prison matron for sex offenders and delinquents. Along, with such in-depth studies in: psychology, early development and her military training; such vital background experiences have afforded MzM a confidential knowledge of real life BDSM, that has greatly enriched her skills, as a Domina.
She has sculpted her vast knowledge of sensual health and wellness, over 2 decades, across 2 continents and, as many, as 7 countries... while still taking time to further develop and master her techniques, with other well regarded professionals and healers, alike.
MzM's poetic approach to sexuality draws, upon the: creativity, confidence and communication skills, which we all need to fulfill our pleasure potentials. Just, as her gracious Southern drawl and hospitable personality adds to the spellbinding sense of erotic euphoria, that she consistently & capably weaves.
Basically, MzM loves: teaching, training & healing others. Whether, they prove to be: couples, groups or individuals; gay, straight, bisexual or transgender. Meanwhile, her private Pleasure Coaching practice attracts couples and singles looking for one-on-one support in pursuing sensual satisfaction, within their casual and long-term relationships. MzMuse revels, within a wondrous variety of: people, pleasures & punishments, which have virtually made her the Empress of Erotic Dark Arts. And, she wickedly welcomes the chance to further fine tune her craft.
As a professional Domina; she permits both novice & more experienced people for consultations & sessions; online or in the flesh. However, MzMuse insists, that all relationships prove to be, without DRAMA, as well, as being continually: safe, sane and consensual. Meanwhile, MzM's approach to sensual education prioritizes safe and accessible spaces for people to navigate barriers in confidence.
So, whether you're struggling, with: unfulfilled desires, body esteem, performance anxiety or simply shame-based guilt; over your own array of kinky fetishistic fantasies – MzM has you covered, with strategies and empathy skills to support your own erotic journey.
Whether through: website, blog, artwork or personal submission; these are a just a few of the many ways you can experience MzM's sensual seductions. While Her workshops are refreshingly fun and inviting, as well.
From Dungeons to dinning rooms to partnering, with other sex positive healers; MzM facilitates a wide variety of unique opportunities to tap into our erotic energy. Her desire to sparkle up sex lives doesn't end merely at sex education or your submission… Her skills, as a genuine BDSM goddess can be found within all her writings & artwork, as well, as the blog of her live-in sissy-maid "Missy".
You may apply for submission
Contact Support.
​
This scintillating southern belle is a virtual myriad of sensual moments waiting to unwind, with the right BDSM mate. However, as a polyamorous Domina she offers a sublimely sensual erotic BDSM course built upon emotional connection and communication. You will learn the true nature of
living your BDSM fantasies in real time, online, or by phone.
Sessions are available.
Real Time
Online Email with pics
Phone Fantasy Domination
This is for my time and your education in female domination.
It does not imply sex in any way!